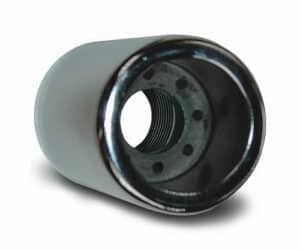 With the CYCLONIC burner tips, the tip bores are arranged at an angle, which automatically results in a helical flame pattern. Due to the turbulence, the radiant tube is heated more effectively and heat build-up at individual points is reduced; This results in more even heat distribution and a longer service life for the radiant heating tubes.
Additional flame breakers are no longer required, thus avoiding unnecessary costs! The improved design of the CYCLONIC burner tips increases the thermal efficiency of the burner by at least 10%; With the right setting, an improvement of more than 25% is possible.
By using high-temperature-resistant RA 310 stainless steel, the resistance of the CYCLONIC burner tips to oxidation is four times that of other products, and the melting point is higher.
material
Heat-resistant stainless steel US standard RA 310 (1.4864)
| | | |
| --- | --- | --- |
| Type ACB-10 | Connection 3/4″ and 1″ | 25 kWh |
| Type ACB-20 | Connection 1″ | 30 kWh |
All sizes are always available from stock.
CYCLONIC burner tips
Elimination of flame breakers
Easy exchange
More efficient heating effect