Oxygen probes are one of the most important sensors in the heat treatment industry. Only by determining the exact oxygen content in the atmosphere can the correct conclusions be drawn for the gas mixing ratio in order to enable an optimal process. Therefore, the oxygen probes should work reliably and accurately, but also have a long service life, be easy to clean and easy to repair and calibrate.
For this reason, Avion Europa offers 2 oxygen probes that meet your requirements.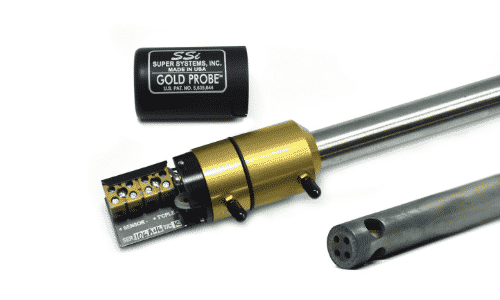 Gold probe – oxygen probe
Gold probe – oxygen probe

Reliable and economical
The heart of the GOLD PROBE is an Zirconium Oxyde sensor which we stabilzed with Ytrium.
This guarantees a long lasting accuracy.
The advantages for you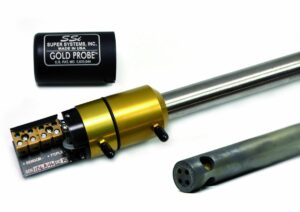 highest accuracy of measured values
flexible mounting of the sensor = extended life
"cold" head box by temperaute barrier to the furnace side
simple but efficient design
noticable reduction in air consumption due to reduced length of the sheath
matching probe for each of your specific temperature and atmoshere requirements.
Possible use of CERMET coating /diffused Ceramic) for additional protection of the RA 333 sheath
Specifications
Useful %C Range 0.01 – 1.6%
Temperature Range 1200 °F – 2000 °F (649 °C – 1093 °C)
Stability within +/- 1 mVDC
Impedance less than 10 kohms at 1700 °F (927 °C)
Useful output 0 – 1250 mVDC
Length 21 1/2″, 25 3/4″, 35″ (600 mm – 1400 mm)
Weight 3.7, 4.0, 5.8 lbs
Insertion 14.3″, 18.6″, 20″ or 27.8″ (360 mm – 1240 mm)
Mounting 1″ NPT
Sheath dia 0.84″ (1/2″ pipe) (21 mm, 13 mm pipe)
Bazooka oxygen probe
Designed for endogas generators and constructed for high temperature and high carbon applications.

With the Bazooka oxygen probe, Avion Europa offers an innovation for measuring and controlling the gas composition in endogas generators. This oxygen probe is inserted through a 1 1/4 "opening on the side of the generator and takes samples independently.
Since the life of a lambda probe is very limited and the results fluctuate a lot, the Bazooka should be your next oxygen probe.
It was specially designed for endogas generators, but can also be installed in rotary kilns, muffle furnaces and chamber furnaces.
The ideal temperature for the longest possible service life of the Bazooka oxygen probe is between 810 ° C and 870 ° C.
After the endogas has cooled down, the bazooka takes a sample for measurement. The probe then transmits the results to the connected control unit. The probe is installed on the side wall in front of the mixing pump; therefore, easy installation and maintenance during operation is guaranteed.
The advantages of a Bazooka oxygen probe
Easy cleaning, repair and calibration
Reliable and long service life
Simple and immediate replacement of the lambda probe
Stable measurement and quick response
Control via dew point, O2, mV or "% C"
Operation via generator – no separate power supply